Green Bay Packers Wide Receiver Greg Jennings Pulls a Prank of Teammate James Jones [PHOTO]
Don't mess with Greg Jennings. That's the message being sent by a Twitter photo showing off a retaliatory prank against teammate James Jones.
Jennings has been sidelined by an injury, but he's still actively involved in the locker room and the antics shared between teammates. On Monday, Jennings tweeted the following photo, suggesting he was returning the favor on a prank by taking the tires off Jones's Chevy Avalanche and decorating the windows.
This what I do o people who try to prank me. Got Cha James Jones89 twitter.com/GregJennings/s…

— Greg Jennings (@GregJennings) October 22, 2012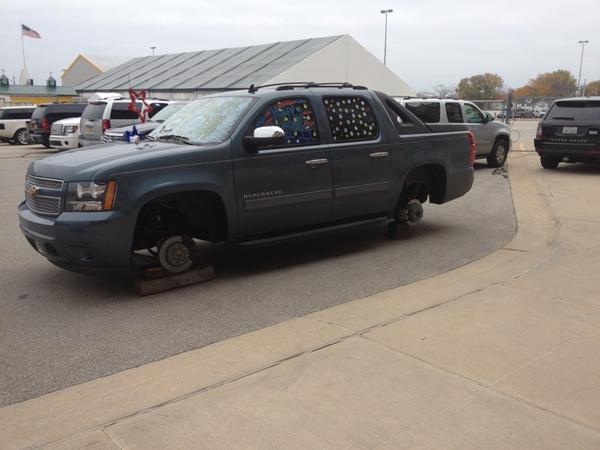 According to the Bleacher Report, the prank was retaliation for another Jones pulled on Jennings for his 29th birthday earlier this year. The prank that started it all reportedly had Jones and other teammates drawing vulgar pictures on Jennings's vehicle and filling the inside of his ride with packing peanuts.
The pranks are reportedly just in good fun, and even though the team hasn't had the start they hoped for, morale is still strong among players. The Packers won against the Rams last weekend 30-20, and look to earn another victory this weekend as they host the 1-5 Jacksonville Jaguars.